The 2014 Reader's Digest list of New Zealander's Most Trusted People is out. For scientists, this is a marvellously flawed exercise, but it conveys some nice messages about our society beyond the ivory twittersphere – that is, the strong majority of New Zealanders who have probably never heard of the National Science Challenges or the Marsden Fund. The list is of most immediate interest to scientists because in 2011 we landed a trifecta.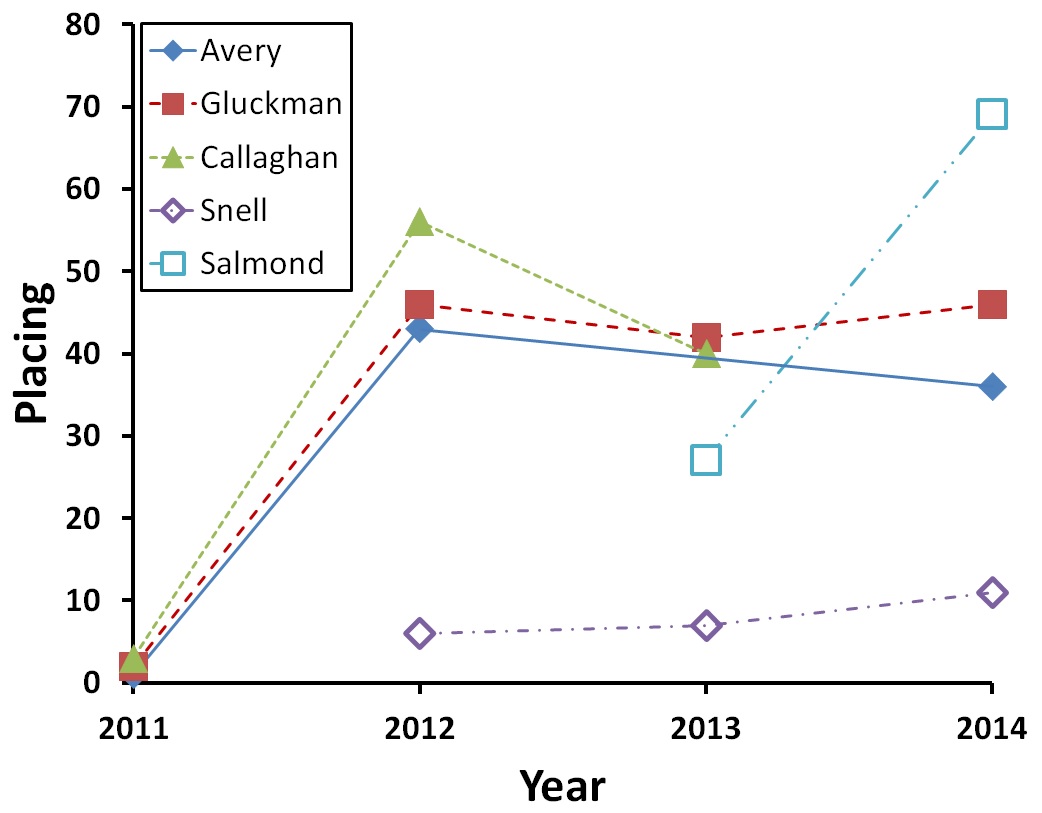 Figure: Placings of scientists in the Reader's Digest list of NZ's Most Trusted People 2011-14.
The 2011 list was headed by Sir Ray Avery, fresh from the 2010 award of New Zealander of the Year and release of an autobiography, followed by Sir Peter Gluckman, who had been recently appointed as New Zealand's first Chief Science Advisor, and the late Sir Paul Callaghan. While refreshing and life-affirming for scientists, this result was unpalatable in wider society because these three gentlemen were, for the most part, unknown to the population at large. The poll methodology was new in 2011, and swiftly changed for 2012. The methodologies are fairly opaque, but it appears that respondents are asked to rate their level of trust in a pre-selected list of 100 prominent New Zealanders. The 2011 poll was weighted towards respondents who actually knew of the person, so Avery, Gluckman and Callaghan were 'most trusted' by those who had heard of them. The Herald spluttered, "34% of this year's respondents decided Sir Ray [Avery]'s ranking, while 97% voted on John Key." In 2012, a more global average was used, and with Ritchie McCaw coming out on top, no further questions were asked. Our scientists were not the only casualties; someone like Labour Party chief of staff Matt McCarten, 18th in 2011, has been ranked in the 80s ever since.
Two other practising scientists feature since 2011. Exercise physiologist Sir Peter Snell is of course more famous for his athletic exploits, and his appearance on the list in an Olympic year (2012) is no coincidence. But he probably does earn considerable respect from having kicked on to do useful things in later life, perhaps in a similar vein to Sir Ed Hillary. Anthropologist Dame Anne Salmond made a strong entry in the 20s following the award of New Zealander of the Year in 2013, but she is perhaps not so prominent publicly, and her ranking has dropped this year.
Is there a moral to the story? Maybe not. Quite what 'most trusted' means is debatable, and fame/celebrity certainly plays a role. It is easy for scientists to either be dismissive of the poll in general, or to embrace the 2011 result as a true reflection of our standing in society, claiming that the changed methodology has made this list a popularity contest. But the ranking surely conveys at least some level of respect, and here's something to chew on: the top 3 places are occupied by excellent individuals whose main activity involves openly working for and representing other New Zealanders, as part of a unit, community or team. Predominantly, scientists are good people, but that level of unselfishness is rare in our profession, whether forced upon us by structures or otherwise.
Scientists can take heart that individual scientists generally feature in the top half of the poll, and that our position on the equivalent list of most trusted professions is stable, in the range 11-14 (out of 50) for each of the past 4 years. It would be difficult to be dismissive of a significant change in that latter ranking.